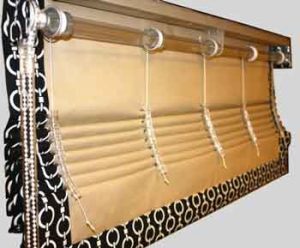 Safe-T-Shade is introducing the newest, most complete, professional lift system to the market: the ProLift®. Like the ProLift® CL, the ProLift® is a "Cordless Safe®" lift system for your fabric shades and woven woods, but with even more bang for your buck. That's right, it's our most complete and most cost-effective package yet.
The ProLift® includes a Fashion Wand®, Ring Locks®, Clear Forever Rings®, Level Locks ® and our Polycarbonate Drive Rod and Traversing Cord Accumulator Cones that make it the most convenient, complete and quick-to-assemble lift system on the market. This innovative combination of our award-winning products guarantees you the safest and most beautiful shades imaginable. Transparent pieces blend in with your design and cut labor and material costs by up to 50%.
The most exciting thing about this Professional Lift System is its exceedingly high safety precautions. Every part of the system meets current safety regulations outlined by the ANSI-WCMA standards. That's the "Cordless Safe®" Guarantee!
Safe-T-Shade is the fastest-growing industry leader for window covering safety and innovation. The ProLift® is one of many new exciting products that provide fashion, function, value and safety to Safe-T-Shade customers worldwide. To learn more about the ProLift® regarding safety, installation, operation and warranty, call our customer service line at (336) 228-6000.