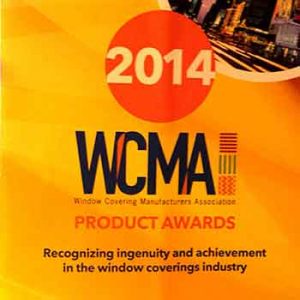 The 2014 Window Covering Manufacturers Association (WCMA) Product Awards recognized the best of the window covering industry's products and merchandising programs on June 19, 2014 when independent industry judges convened to review all new product and merchandising entries. Among these entries, the WCMA awarded the "Best New Technical Innovation" to Safe-T-Shade's Ring Lock®.
The patented Ring Lock® was designed to eliminate hazardous loops on the backside of fabric shades and woven woods that pose a strangulation threat to infants and small children. View this demonstration to see how these innovative Ring Locks® work, replacing shrouded cords and ladder tape/cords to reduce labor and materials costs for fabricators, designers and workroom owners. While designed for safety, Ring Locks® also enhance the beauty and folding of roman shade and woven woods as they lock in perfect spacing and flat folds with every lift.
For the past 24 years, the WCMA Product Awards Program has bestowed annual awards to window covering industry products that raise the bar on style and design innovations. Safe-T-Shade is honored to be included among the most innovative companies in the industry and seeks to continue to provide fashion, function, value and safety to its customer's worldwide. To learn more about Safe-T-Shade's innovative product line, visit our product information pages or call (336) 228-6000.