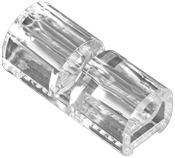 The award-winning, patented Ring Lock® is designed to eliminate the lift cords' ability to form hazardous loops on your fabric shades and woven woods. Ring Locks® are intended to replace shrouded cords and ladder tape/cords while saving you up to 50% of your labor and material costs.
Ring Locks® also enhance the beauty and folding of your roman shades and woven woods as they lock in perfect spacing and flat, waterfall folds with every lift. Use Ring Locks® in conjunction with the Fashion Wand® to insure fashionable, compliant, Cordless Safe® window coverings.
It's a no-brainer – Ring Locks® save you time and money. They enhance the beauty of your window designs. Producing roman shades just became profitable again! Visit our store to purchase your set of ring locks today. Use with our "Guaranteed for Life," Clear Forever® Rings! For customer service questions regarding safety, installation and warranty, visit Customer Support.
* 2014 Winner for Best New Technical Innovation by the Window Covering Manufacturers Association (WCMA)